DISCOVER THE NEW RUSSIA MADE BOBCAT BACKHOE LOADERS
For more than 50 years, Bobcat has built compact equipment that helps you work more efficiently and effectively. We're proud to be the industry leader, and we're committed to transforming your work.
Focusing further on customer needs, Bobcat is pleased to announce Backhoe Loader production in Russia. Whatever your job - digging, trenching, breaking or material handling, Bobcat Backhoe Loaders have the power to get it done efficiently. Discover B780, the first model coming to the market.
MADE IN RUSSIA
focus on meeting local customers' needs.
RELIABILITY & DURABILITY
with well-known components.
BEST-IN-CLASS 100HP ENGINE
for powerful performance to take on tough jobs with high fuel economy.
THE BOBCAT BACKHOE LOADER KEY FEATURES & BENEFITS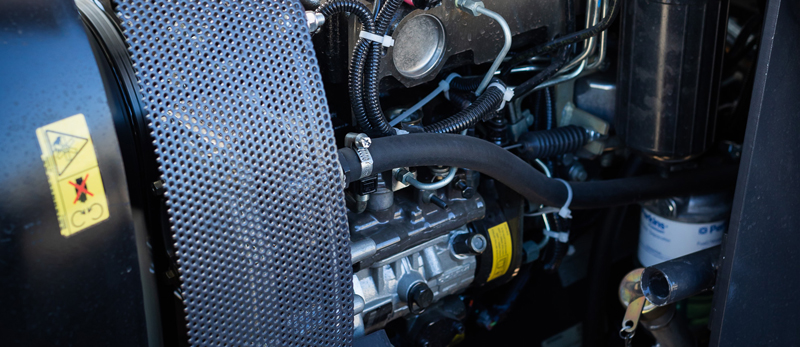 Powertrain
Best-in-class 100 HP engine, matched with reliable and durable components. The standard 4.4 liter, 4 cylinder, 100 HP turbocharged diesel engine delivers more power to respond to the most demanding applications while reducing operating cost. Auto powershift is featured for B780, for applications that require numerous directional changes at the work site. Gearshifts are smooth and precise and help maximise fuel efficiency.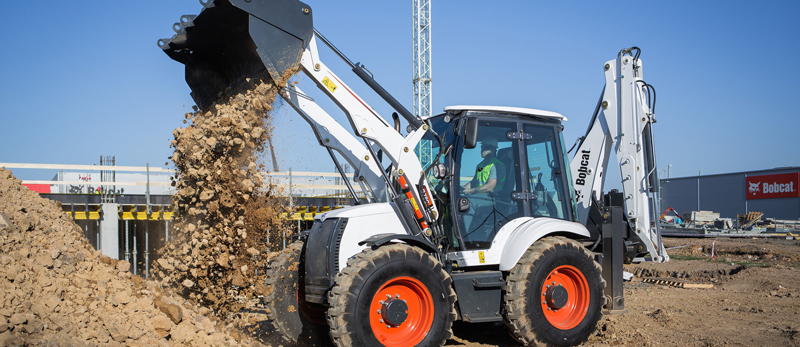 Loader performance
Powerful breakout forces, strong full lift capacities, enhanced load over height and reach match the most demanding material handling jobs and get everything done efficiently. Featured standard for B780, low-effort loader joystick provides precise control and superior comfort, enabling operators to work for longer periods and increase productivity.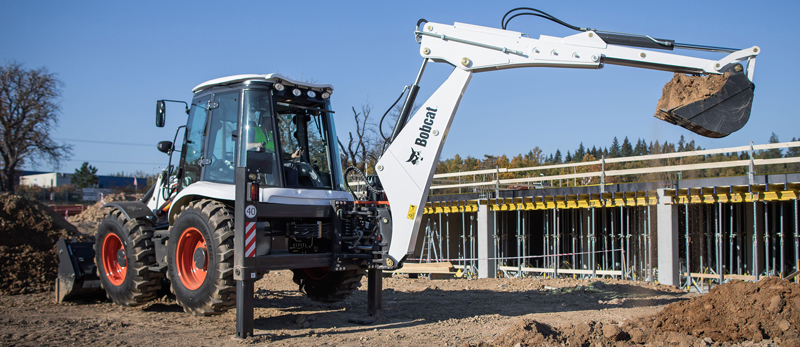 Backhoe performance
Whatever the application, high-performance digging, lifting and trenching capabilities at maximum reach are achieved to handle the toughest jobs with ease. Featured standard for B780, low-effort backhoe joysticks provide precise control and superior comfort, enabling operators to work for longer periods and increase productivity. Cushioned swing cylinder prevents the cylinder piston from impacting, reduces machine oscillation and increases productivity by slowing the boom when it reaches the end.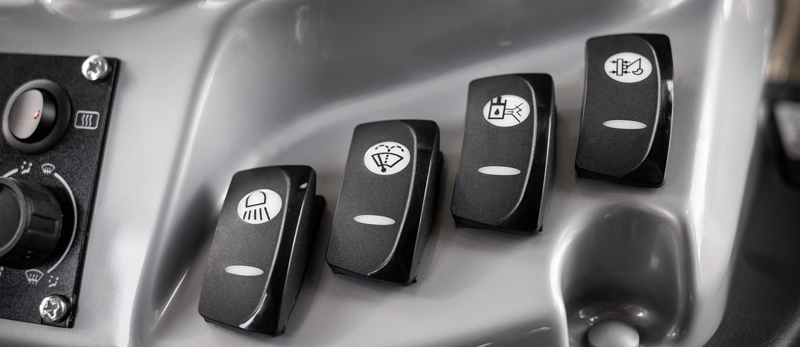 Hydraulics
Hydraulic system is open center type with tandem gear pump, has high-flow capacity of 154 l/min. The unloader valve featured standard: increases productivity, provides more control, lowers operating costs, and combines the high-flow capabilities for rapid movement with the low-power requirements for precise control to accomplish the most demanding jobs.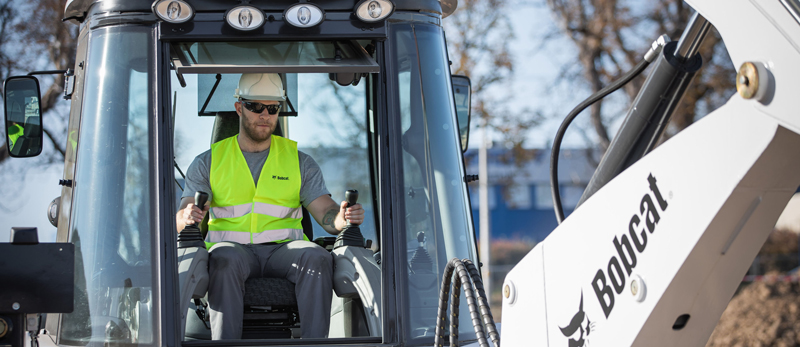 Operator's compartment
Bobcat Backhoe Loaders provide a spacious and comfortable operator compartment with productive features such as fully adjustable Operator's seat, easy cabin entry, all controls within reach, tiltable steering column, high performance HVAC System, heated rear glass, high visibility with enlarged tinted safety glass, sun visor, and spacious side storage.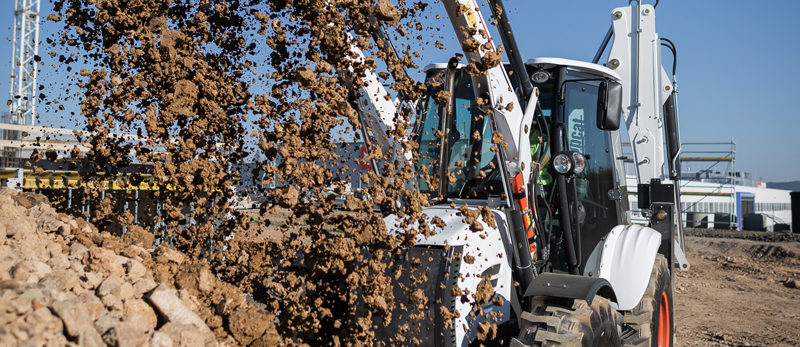 Designed to keep you running
Designed to be reliable and durable, Bobcat Backhoe Loaders are built to tackle your tough jobs comfortably and to minimize downtime, along with maintenance and repair costs, by protecting your machine from potential hazards on-site.
THE SPECIFICATIONS
Performance

Rated gross power ISO 14396
Reaching from swing center ret/ext
Attachments
Backhoe
• Hammer Pipingt
• Different sizes of backhoe buckets
• Hydraulic hammer
Loader
• 6 in 1 loader bucker
• Pallet forks
Please visit your Bobcat Dealer for more attachment options.
WANT TO KNOW MORE ABOUT THE PRODUCTS? FIND YOUR OFFICIAL BOBCAT DEALERS HERE.